Abst:The Benefits of Using a Full Body HarnessIf you're looking for a high-quality full body harness, you've come to the right place. In this article, you'
The Benefits of Using a Full Body Harness
If you're looking for a high-quality full body harness, you've come to the right place.
In this article, you'll learn about the many benefits of using this type of safety equipment. A full body harness has five points of adjustment, and many other safety features that make it a must-have for any worksite. For extra comfort and safety, it has a removable waist belt and breathable padding. It also has built-in rescue handles.
When purchasing a full body harness, make sure to check its rated capacity. This rating is based on the harness's components as well as the work wear and clothing of the worker. A typical harness capacity ranges between 130 and 310 pounds. The performance requirements for a full body harness are defined by ANSI equipment regulation, though the OSHA does not require this standard. Make sure to read the instructions carefully and choose the right one for your job site.
Once you've chosen a harness, the straps should be snugly fastened. The waist belt should be at least six to eight inches below the chest. The chest strap should be snug and rest against the breastbone. A good harness will also have leg connections that are snug and create a seat in the rear. And remember, a properly adjusted full body harness will protect you from falls of up to six feet. You should also make sure that you've secured any loop keepers to keep excess straps.
Another important factor in selecting the best full body harness is how comfortable it is.
Many workers are not comfortable wearing a harness that doesn't fit correctly. A comfortable harness is more likely to stay in place while employees perform their jobs. Harnesses that are easy to adjust also allow the user to connect to lanyards or other accessories. An adequate harness can save lives and help ensure compliance with safety regulations. If you're unsure of the right size, you can always refer to a sizing chart provided by the manufacturer.
A full body harness is a fall-protection system that provides back support and additional comfort options for workers. Many harnesses can accommodate belts as well, so you can add them to your existing fall protection system. Some even offer tool carrying, restraint, and work positioning options. All three types of harnesses can help protect your body from falling from an elevated height and are a good fit for most workers. However, it's always important to read the label of the full body harness before purchasing.
Hangzhou Hetai Security & Protection Co.ltd is a premium full body harness that delivers ultimate performance, ergonomic comfort, and lightweight comfort.
It also provides infinite adjustability system. Its sub-pelvic strap is adjustable, so you can customize the fit according to your height and your body shape. Besides being durable and lightweight, this harness is also comfortable and meets major safety and compliance standards.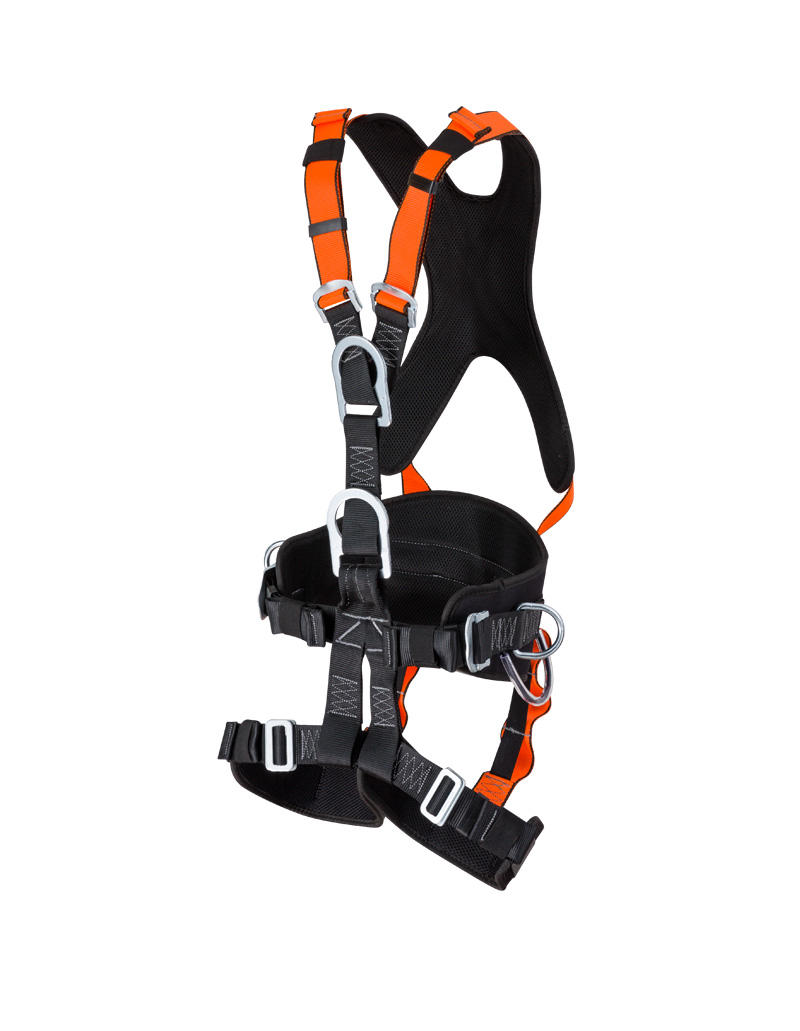 Safety Climbing Chest Harness A climbing chest harness is worn around the shoulders, usually with a sit harness so as to provide an additional attachment point. This attachment point allows for better balance in some situations such as when carrying a heavy pack (as the certre of mass is below the connection to the rope) and when the person in the harness may be unable to maintain an upright position (due to injury or other influences)