Abst:Choosing a Full Body Harness If you're in the market for a new harness, you'll want to choose one with features you can rely on. A Full Body Harness
Choosing a Full Body Harness
If you're in the market for a new harness, you'll want to choose one with features you can rely on.
A Full Body Harness offers five points of adjustment, a removable waist belt, and quick-adjusting torso buckles.
Some models even have breathable padding, leg pads, and built-in rescue handles. These harnesses provide maximum comfort and ease of use, and many are water-repellent.
A full body harness is used in many different applications. For instance, the over-the-shoulder restraints that thrill-ride riders use on amusement parks are full body harnesses. Professional divers and fighter pilots also use harnesses to prevent a severe free fall. Some harnesses even have a jackstay to guide and support them. The types of harnesses available for various applications are extensive and vary in price.
You can find many different types of full body harnesses online and in local retail stores. Your choice will depend on several factors, including price, size, buckle type, dorsal ring placement, and color. You may also want to consider the catch capability of a full body harness. The catch capability of a harness will depend on the type of environment you work in. It is also important to take into account the height of the person you're lifting.
A fully body harness can hold up to 310 pounds. If the worker weighs more than that, then it will be too large for him or her to wear safely. Despite this, however, some safety experts recommend that harnesses with capacities over this capacity be used by workers with more than 310 pounds. The safety risks of working with a full body harness that is too small or too large may be too great. A full body harness with inadequate weight capacity can cause significant injury and even death.
A full body harness is a type of fall arrest device that distributes the force of a fall across the entire body. It features a dorsal D-ring for connecting the connector. Often, full body harnesses have several D-rings for other fall arrest components. They should also meet the standards for ANSI, OSHA, and CSA. They should also have minimum breaking strength at the attachment points, including the dorsal attachment.
The proper fit of a Full Body Harness depends on its size. For example, a harness that is too large for your body will be too tight. The correct fit will allow for proper fit and comfort, so make sure you buy one that fits the body correctly. A harness that fits properly can increase employee safety, meet regulatory requirements, and save lives. If you're not sure how to use one of these harnesses, follow the instructions enclosed in the package. Once you've positioned the chest straps correctly, you can move on to attach the straps.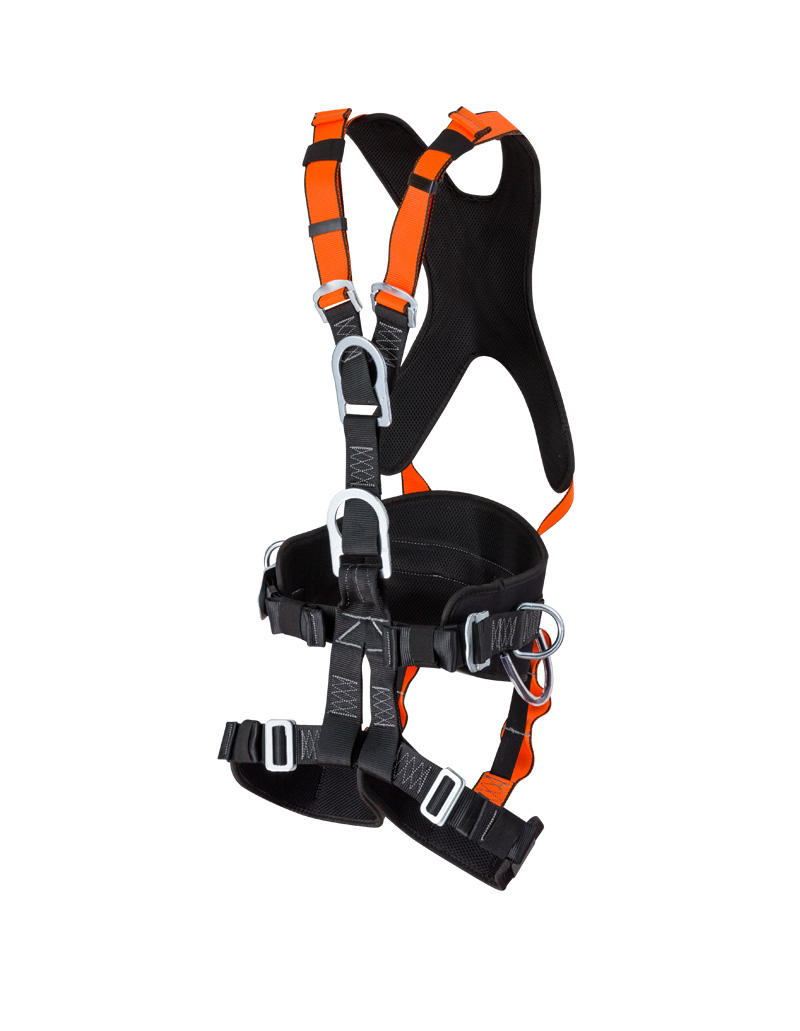 Safety Climbing Chest Harness A climbing chest harness is worn around the shoulders, usually with a sit harness so as to provide an additional attachment point. This attachment point allows for better balance in some situations such as when carrying a heavy pack (as the certre of mass is below the connection to the rope) and when the person in the harness may be unable to maintain an upright position (due to injury or other influences).