Abst:Things to Look For in a Safety Harness If you're thinking about getting a Safety Harness, there are several things to keep in mind. Listed below are
Things to Look For in a Safety Harness
If you're thinking about getting a Safety Harness, there are several things to keep in mind.
Listed below are some things to look for in a harness. These safety devices are essential to your safety and may save your life. While it's important to consider all of the different options, a Safety Harness should always be paired with a safety lanyard. If you need additional fall protection, you should consider a safety harness with an optional shock-absorbing system.
Check the straps. Too tight or loose leg straps can cause a fall. They can even rupture testicles. Also, overtightened chest straps cut off circulation, so you need to be sure that you find the right fit. Be sure to check the leg straps for comfort, as well. Also, make sure that you can tuck the straps. A properly fitted harness should have enough space between the strap and the leg.
Choose the correct fit. It should be tight and snug on your body, but it should not be so tight that it limits your movement. Also, a harness should be gender-specific, as most are not designed for women. Check for broken or frayed straps, cracked webbing, and torn belt tongues. A full-body harness should also have a higher working weight than a safety belt. Ultimately, a harness should fit you well and prevent any problems that may occur.
Ensure a proper fit by slipping your arms into the arm loops. Make sure the grommets on the leg straps are secure. Pull the straps up over your shoulder and connect the chest strap. It's a good idea to have a coworker check your harness to make sure it fits properly. Make sure it's secure and snug, otherwise, it may cause a fall. If your harness doesn't fit properly, you might have a problem while on a jobsite.
A full-body harness is a basic safety equipment for many situations.
It's designed to hold workers during a fall and afterward. In fall-risk environments, full body harnesses are mandatory. Which type you get depends on what activities you perform and what your job involves. Additionally, the location of the anchor device will affect the freedom of movement. Other factors can also influence your choice of harness. Also, make sure to consider accessories and how they connect to the harness.
A Safety Harness should be checked at least once a year. If you have an accident, or if you fall, it may no longer meet safety standards. If it is damaged, you should not use it. Another common sign of a damaged harness is fading, which can be a sign of exposure to sunlight and affect its strength. If you find that your harness has worn out too much, you should replace it. This way, you'll be safe and comfortable.
A Personal Safety Harness can also include extra D-Rings on the sides of the body. These are not intended for fall protection, but can be used for positioning. Some side D-Rings can attach positioning devices. This is great for rebar and tower applications. These positioning systems allow workers suspended by a Safety Harness to move around with more freedom of movement. However, they must be used in combination with standard fall protection to protect the worker.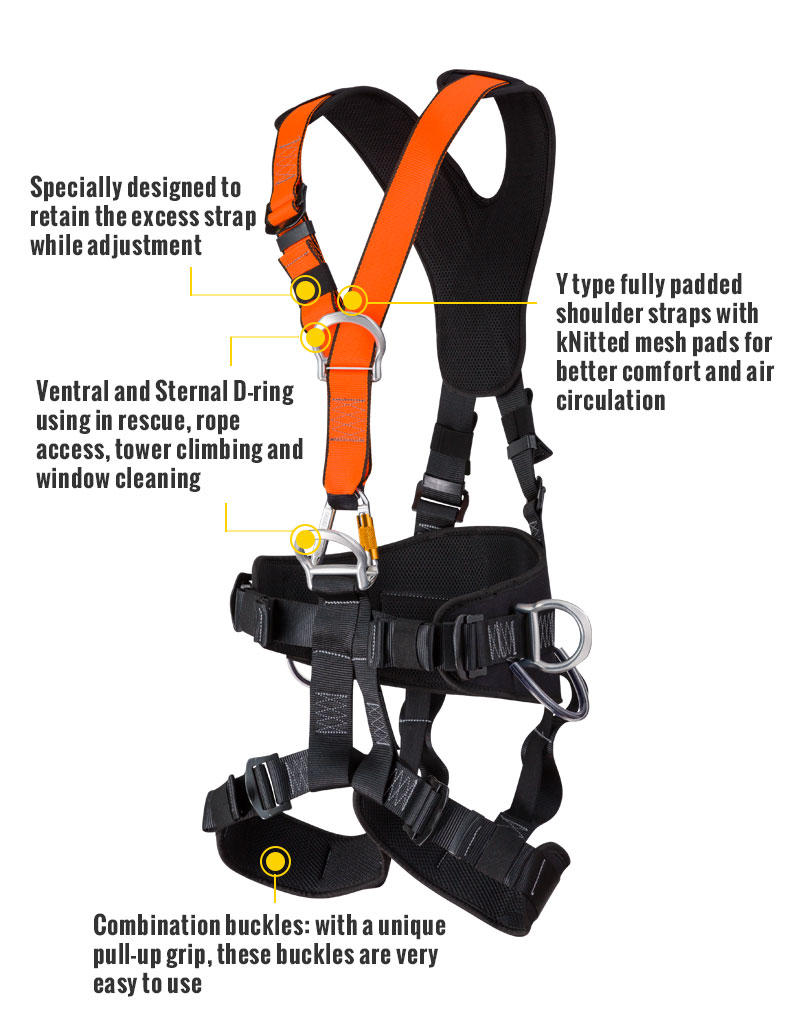 High quality rescue full body harness HT-327, Tower climbing vest style, front and back D-ring, belt with back pad and side D-rings, removable seat sling with positioning D-rings, quick-connect buckles (SM).