Abst:How to Use a Safety Harness Belt A Safety Harness Belt is a piece of personal protective equipment that is used to help prevent falls. These belts ca
How to Use a Safety Harness Belt
A Safety Harness Belt is a piece of personal protective equipment that is used to help prevent falls.
These belts can be found in various designs and colors. They are useful when working at heights, especially in construction and other industries. However, most users do not know how to properly use them. Having a safety harness can help you avoid serious injuries, which can cost your business a lot of money. It is advisable to have a qualified expert show you how to use the correct type of harness and belt.
There are several types of harnesses, from a simple positioning belt that keeps you in a certain position to a full body harness that distributes the impact of a fall across your entire body. Each style offers various advantages, but it is important to choose the right one for your specific job.
Safety harnesses are made of materials including leather, polyester webbing and locking hardware. The main function of a harness is to allow workers to move around without putting them at risk of falling. Additionally, some models offer shock absorbers and integrated trauma straps for extra comfort.
The materials can vary depending on the job, but in general they should be durable. To make sure that your harness will last, you should inspect it regularly. This includes checking for fading or damage to the fabric, the buckle and the hardware. Ensure that the webbing is securely tightened. You may also want to replace the harness if it is showing signs of wear and tear.
The material should not be exposed to chemicals or open flames. Several models have a quick connect buckle. Another option is to have an intermediate buckle called a lanyard keeper. Lanyard keepers will keep the lanyard from dangling and will also keep the second leg out of the way.
Getting the right type of harness can save your employees' lives. They are designed to help protect your employees while they are working at heights. In addition to the standard belts, you may also want to consider having a restraint lanyard and a back support.
Harnesses can be found in a variety of colors and designs, including solid colors, beige, red and green. If you are looking for something that will be a standout, you can go for a bright yellow color. Some of them feature expansion zippers, which are great for providing a comfortable fit.
Safety Harness Belt is a necessary piece of equipment for any worker who is going to work at height. Whether you are working in an office or a warehouse, your employees need to have the proper safety equipment. While it is not a guarantee that your workers will be safe from accidents, they are much less likely to end up with severe injuries. Providing your employees with the proper training and equipment can help them to avoid accidents, which can cost your company a lot of money.
The most important thing to remember when using a safety harness is to ensure that you do not tangle the straps or twist them. You should also check your harness to see if it is too loose or if the buckle is too tight.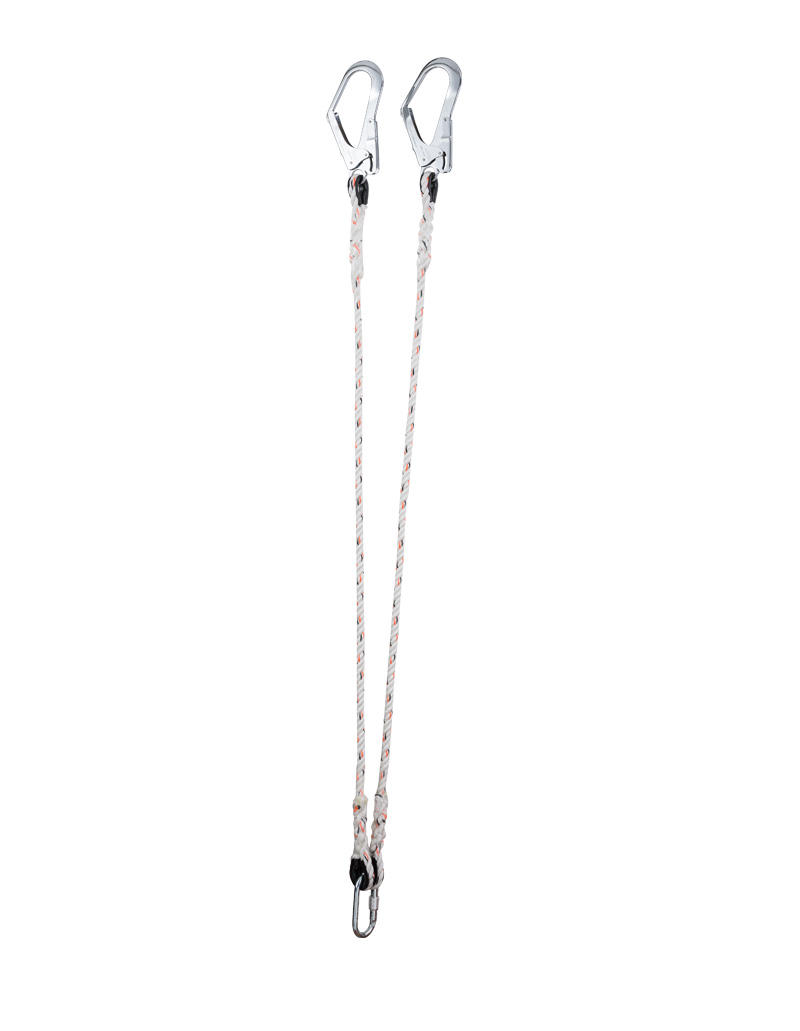 High Strength Fall Arrest Lanyards HT-L605
Product Code
Restraint Forked Lannyard
Product Type
140 kg
Rope material
14mm Diameter 3 Strand Polyester Twisted Rope
Scaffold Hook Strength
25 kN
Carabiner Strength
25 kN
Available length
1.5m,1.8m,and 2.0m
Standards
EN354:2010
Individually inspect by QC