Abst:Safety Harness With Lanyard Having a safety harness with lanyard attached can help you reduce the risk of injury while working at height. Depending o
Safety Harness With Lanyard
Having a safety harness with lanyard attached can help you reduce the risk of injury while working at height.
Depending on your job, you may need a different type of lanyard. For example, workers who are exposed to hazardous environments need a lanyard with shock absorbing capabilities. The lanyard attaches to the D-ring of your safety harness. Using a safety harness with a lanyard is important because it prevents sudden loss of life. It can be used as a lifeline in an emergency situation.
A safety lanyard is a short section of webbing or cable that is connected to your safety harness. Lanyards are designed to prevent your harness from slipping and becoming snagged on anything. They are available in a variety of materials, including Kevlar, nylon, and Nomex. In addition, some safety lanyards include an expansion pack that can extend the length of the lanyard. Most safety harness lanyards come with four adjustable buckles.
When choosing a safety lanyard, it is important to choose a high quality model. If you're working in a hazardous environment, your safety lanyard should be made of high-quality, weather-resistant material. You should also purchase a lanyard with a built-in shock absorber. Besides preventing your lanyard from bouncing back, a shock absorber can provide additional fall protection.
Workplace safety is the top priority for employers. This means that they must ensure that their employees are using the PPE properly. Workers who are working at heights of six feet or more must wear fall protection equipment. OSHA regulations state that a fall protection system must be able to support at least five times the impact force of a fall. That means that your harness must be able to withstand a 50-pound weight. To determine how much force is required, multiply the fall distance by the height of the suspended worker.
Regardless of the type of lanyard you choose, it is important to ensure that you use it correctly. If you're not sure about a particular product, consider purchasing an impact indicator. These small pieces of plastic are attached to the lanyard and will indicate how much force it can withstand.
Your harness must be inspected daily. Check to make sure that it is secure, does not have loose grommets, or sharp edges. Additionally, you should inspect it for discoloration on the metal. Also, check the "D" ring to ensure that it is located between the shoulder blades.
Safety lanyards can be used in combination with a waist belt to form a full body safety harness. Unlike traditional safety gear, this style of harness does not limit your movement. An added benefit of this product is that it is more comfortable to wear.
You can find a wide variety of safety lanyards at Harness Land. There are double leg, single leg, and shock absorbing models. Typically, these lanyards attach to the side D-rings of your safety harness. Some of these lanyards have an expansion pack, so they can expand to a maximum of 3.5 feet.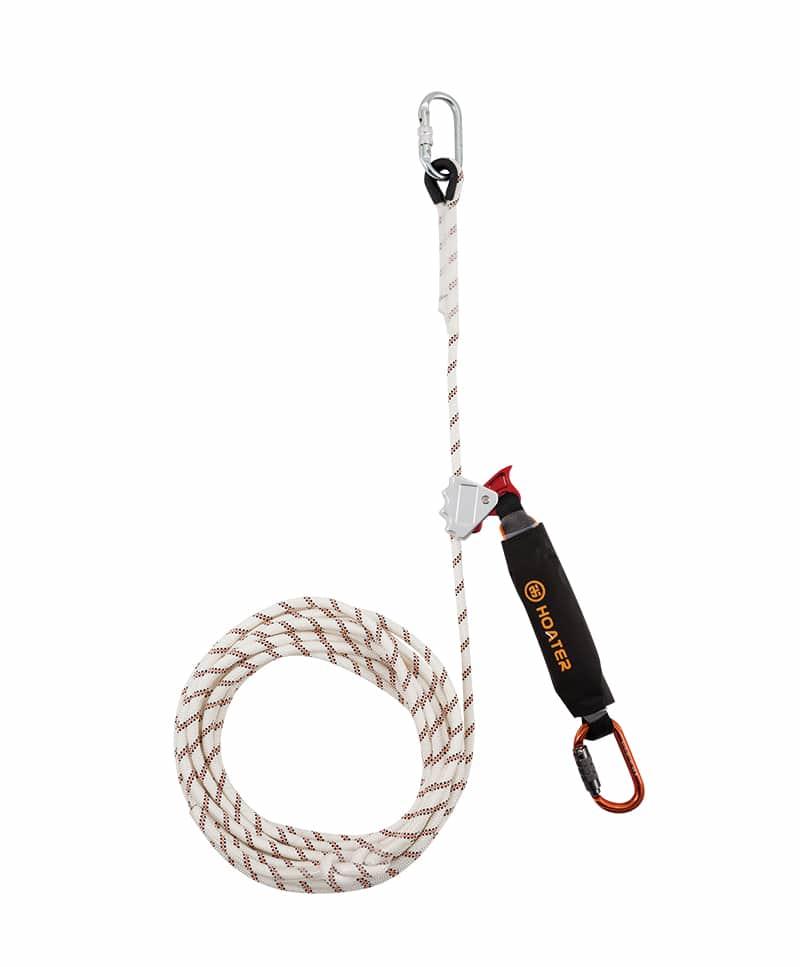 Fall Protection Safety Lifeline Rope HT-614
HEAVY DUTY – Vertical rope is made of 5/8 inch thick, super strong, braided polyester.
STEEL SNAP HOOK – Rope has a galvanized steel snap hook that's compatible with any safety harness D ring. It also has a back splice at the trailing end to prevent the rope grab from coming off the end.
HIGH WEIGHT CAPACITY – The lifeline yields an extremely high strength and can hold up to 6,000 lbs. Yet it is relatively lightweight to carry around, weighing only 9 lbs.