Abst:Safety Belt With Lanyard Whether you need a safety belt with a lanyard or a safety harness, there are a variety of options available to suit your nee
Safety Belt With Lanyard
Whether you need a safety belt with a lanyard or a safety harness, there are a variety of options available to suit your needs. Generally, safety belts are adjustable, and some also feature a shock absorbing component. A safety belt with a lanyard is an essential safety equipment in any workplace. Its purpose is to provide the proper protection against falls and injuries. Moreover, it is a great way to reduce the risk of tripping.
Safety belts with lanyards are usually equipped with shock-absorbing devices that reduce the chances of a fall and injury. These devices come in a variety of sizes, colors, and features. There are also different types of hooks to suit different purposes. The lanyards come in different sizes, including single and double-leg versions.
Safety belts with lanyards are designed to reduce the risk of a fall by providing a secure, continuous connection between a fall arrest system and a fall protection device.
Lanyards made of high-quality materials can reduce the risk of tripping and fall accidents. As a fall protection tool, safety belts with lanyards can help prevent falls and protect workers from injuries.
The safety belt can be used alone or in conjunction with a harness. It comes in an orange warning colour to alert workers to fall hazards. The lanyard has a large DOUBLE-LOCK hook for attaching a safety harness or a fall arrest device. It can also be used as an extra support during tasks like rebar tying, tower maintenance, tree-climbing, or ladder maintenance.
A safety lanyard is a vital link between the worker and the fall protection anchor point. Typically, it attaches to the D-ring on the worker's safety harness. A safety lanyard also includes a shock-absorbing feature. The lanyard can also be used as a lifeline if the worker should be suspended. In order to use a safety lanyard with a safety harness, users must determine the required fall clearance distance. The distance is calculated by adding the fall distance, deceleration distance, and height of the suspended worker. This distance should be within a reasonable distance of an obstruction during a full arrest.
The lifelines used in rock-scaling operations should be made of 7/8-inch wire core manila rope. The safety belts used in areas with abrasion must be at least 1/2-inch nylon. In addition, the safety belt lanyard should have a break strength of at least five hundred pounds.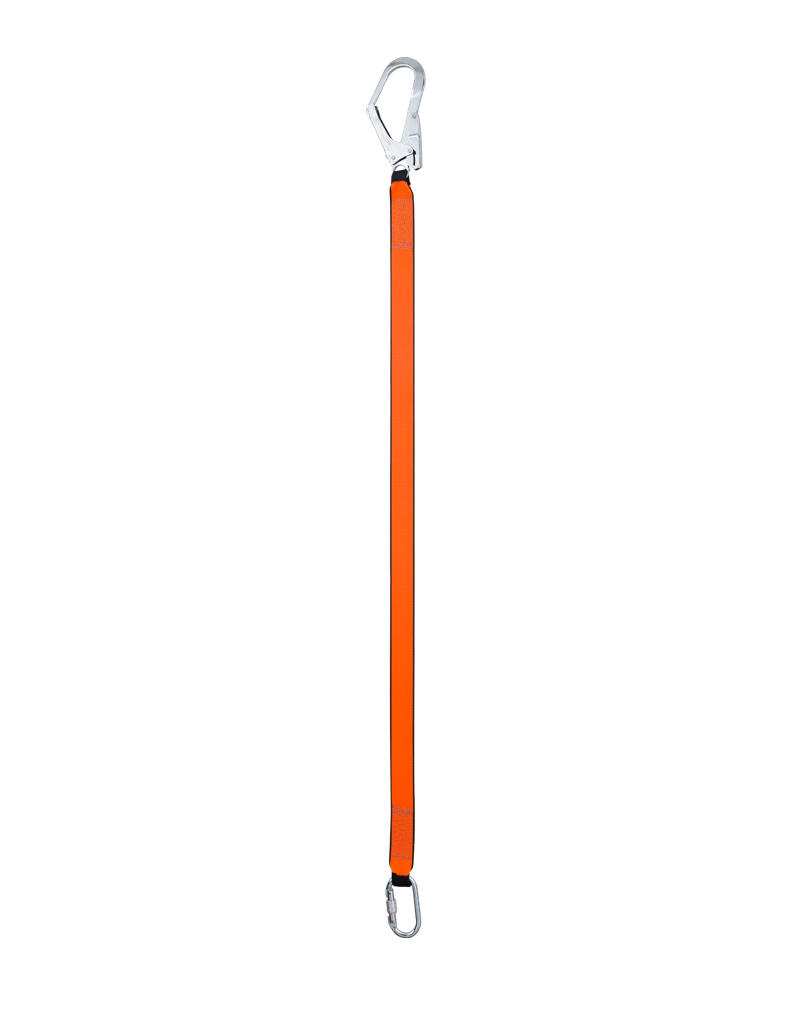 Material:100% Polyester 100% nylon
Technical parameters:Breaking strength 30 KN (6000lbs)
Characteristic
1.Standard : Meets CE EN362,EN354,EN355 ,ISO9001 and etc. Product could pass the test of safety and customer could also take our product for any testing.
2. Webbing width:45mm Rope diameter:14mm
3.Length:1.8—2m
4.Accessory: snap hook, steel carabiner.
5. Lanyard shape: twisted rope kernmantle rope lanyard or webbing.
6.Color: as your requirement
Applications:Self rescue in rescue work, aloft work, climbing.
Attention:This safety Lanyard must be used with safety harness or safety belt.
Product Code
Restraint Lanyard
Product Type
140 kg
Rope material
45mm Polyester Webbing Lanyard
Scaffold Hook Strength
25 kN
Carabiner Strength
25 kN
Available length
1.5m,1.8m,and 2.0m
Standards
EN354:2010
Individually inspect by QC