Abst:Choosing a Full Body Harness When choosing a full body harness, there are many factors to consider. These factors include the weight capacity, attach
Choosing a Full Body Harness
When choosing a full body harness, there are many factors to consider.
These factors include the weight capacity, attachment points, buckle type, color options, and dorsal ring placement. Another factor to consider is the type of work you will be doing with the harness. You want to choose a harness that will allow you to move freely and is comfortable for you.
A full body harness is designed to distribute fall arrest forces over the whole body, reducing the chance of injury during a free fall. They are attached to other fall arrest system components, and must meet OSHA, ANSI, and CSA standards. In addition to these requirements, the full body harness should meet a minimum breaking strength of 5,000 pounds (22kN) at its attachment points. If it doesn't meet these standards, it may not be effective enough.
Full body harnesses are important parts of any fall protection system. Choosing the right type for your job will minimize risk and keep your workers safe. Some types are designed to be worn during an arrest, while others are used to keep workers in place during a controlled descent. The class of fall arrest harness you choose will depend on what type of fall you are prone to.
Full body harnesses are made of different types of fabric webbing that is sewn into different configurations. Common fabrics include polyester and nylon. For more hazardous environments, there are specialties fabrics such as Kevlar. The straps are then secured to the body with buckles. Common buckle types include tongue buckles, quick-attach buckles, and spring tension buckles.
When choosing a full body harness for your workplace, you need to be sure to choose one that meets OSHA standards. OSHA requires that the system protect vulnerable body parts as well as prevent injury. A full body harness should be able to protect all body parts from falls. It is also essential to choose a safety harness that fits snugly and securely.
A good harness should also be adjustable and prevent falls.
The harness should be able to prevent free falls that are six feet or more. An optional derrick belt is also a feature of a good harness. And it should also be easy to get on and off. In addition to safety, a full body harness should be comfortable for you to wear.
Full body harnesses must be adjusted correctly to ensure that it fits properly. Some harnesses have chest straps that are too wide, which can prevent you from wearing them properly. Another thing you need to be aware of is the strength of the harness straps. You should also choose harnesses with reinforced chest straps for extra protection against falls. This is important for the comfort and safety of your employees.
The best way to use a harness is by following the instructions.
First, you need to adjust the buckle. Make sure the center bar buckle is on the square link. Once that is done, you can insert the leg straps between your legs. The chest strap should be in the middle of your chest. The webbing should be taut, but not binding. If you find that it is too loose, unbuckle the chest strap and shake the harness to ensure it fits properly.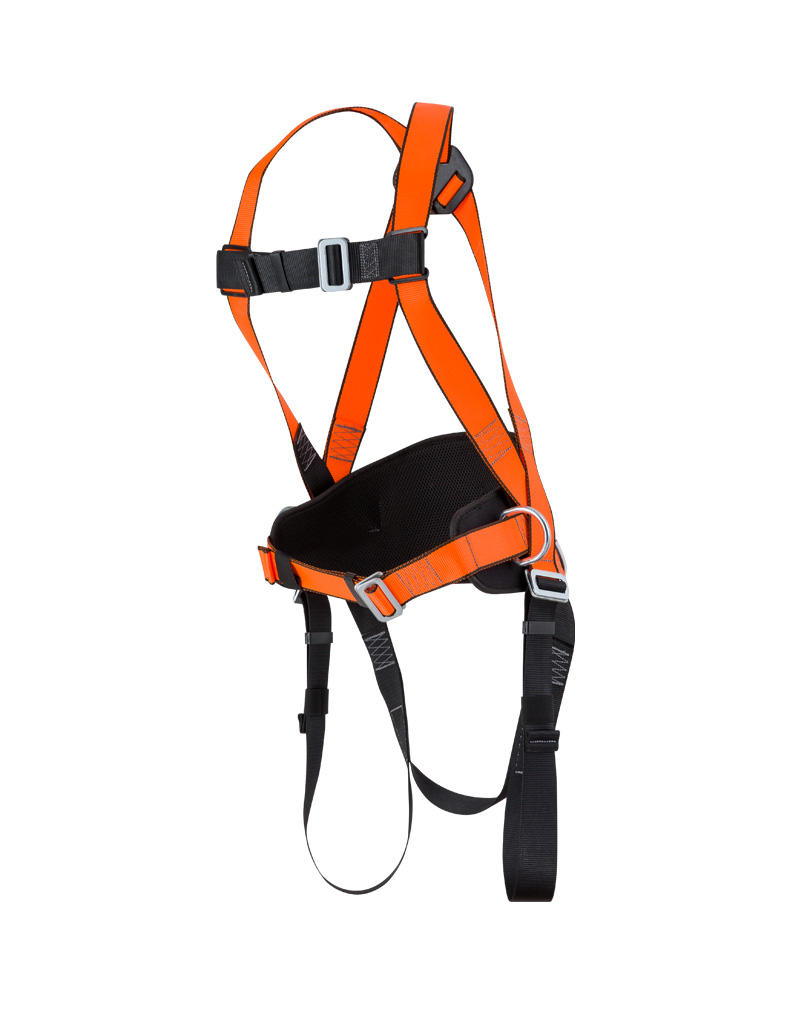 Perfect set for Fall Arrest Safety Harness
Universal harness HT (319) with 5 points of adjustment for added comfort.Body Wear Velocity Harness (S - L)
Vertical Lifeline Assembly with Shock Pack, and permanently attached Positioning Device with 18" lanyard extension to keep device within reach
1 Heavy Duty Temper Reusable Anchor
A Guardian Fall Product