Abst:The sturdy construction of rescue tripods is a critical characteristic that ensures their reliability and safety during confined space and high-angl
The sturdy construction of 
rescue tripods
 is a critical characteristic that ensures their reliability and safety during confined space and high-angle rescue operations. The construction materials and design of these tripods are engineered to withstand the demands of challenging rescue scenarios. Here are the key characteristics related to the sturdy construction of rescue tripods:
High-Quality Materials: Rescue tripods are typically constructed from high-strength materials such as aluminum or steel. These materials are chosen for their durability, corrosion resistance, and load-bearing capabilities. The choice of material often depends on factors like the intended use, weight requirements, and environmental conditions.
Robust Design: Tripods are designed with a robust and rigid structure to provide stability and support heavy loads. The construction should be able to withstand dynamic forces associated with rescue operations, including the impact of a fall or the tension of a rescue line.
Welded Joints: Critical joints and connections in the tripod frame are often welded to enhance strength and reliability. Welded joints ensure that the tripod maintains its structural integrity even under significant stress.
Reinforced Legs: The legs of the tripod are designed to provide stability on various terrains. They are often reinforced to withstand uneven or sloped surfaces and are adjustable to accommodate different ground conditions.
Telescoping Center Mast: The center mast of the tripod is usually telescoping, allowing for height adjustment. This feature is essential for reaching the desired height while maintaining stability. Telescoping masts are often equipped with locking mechanisms to secure the chosen height.
Load-Bearing Capacity: Rescue tripods are rated for specific load-bearing capacities, which vary depending on the model and design. These ratings indicate the maximum weight the tripod can safely support. It's crucial to select a tripod with an appropriate load rating for the intended rescue operation.
Stabilizing Feet: The tripod legs often have stabilizing feet or spikes that provide traction and prevent slippage on different surfaces. These feet are designed to grip securely to the ground, even in challenging conditions.
Attachment Points: Tripods feature multiple attachment points, including anchor points, pulley attachments, and rescue winch attachments. These attachment points are reinforced to handle the forces applied during rescue operations.
Corrosion Resistance: Many rescue tripods are coated or treated to resist corrosion, which is essential for equipment longevity, especially when used in outdoor or harsh environments.
User-Friendly Design: The tripod design should be user-friendly, with features that make setup, operation, and transportation as straightforward as possible. This includes quick-release mechanisms, carrying handles, and foldable designs for easy transport and storage.
Compliance with Standards: Rescue tripods should meet relevant safety standards and regulations established by organizations such as the Occupational Safety and Health Administration (OSHA) in the United States. Compliance ensures that the tripod is manufactured and tested to meet stringent safety requirements.
Regular Inspection and Maintenance: To maintain their sturdy construction and safety, rescue tripods should undergo regular inspections and maintenance. Users should check for signs of wear, damage, or corrosion and ensure that all components are in good working condition.
The sturdy construction of rescue tripods is essential to their effectiveness in rescue operations, where the safety of both rescue teams and individuals being rescued depends on the tripod's stability and reliability. Proper selection, maintenance, and use of these tripods are critical to ensuring the success and safety of confined space and high-angle rescue missions.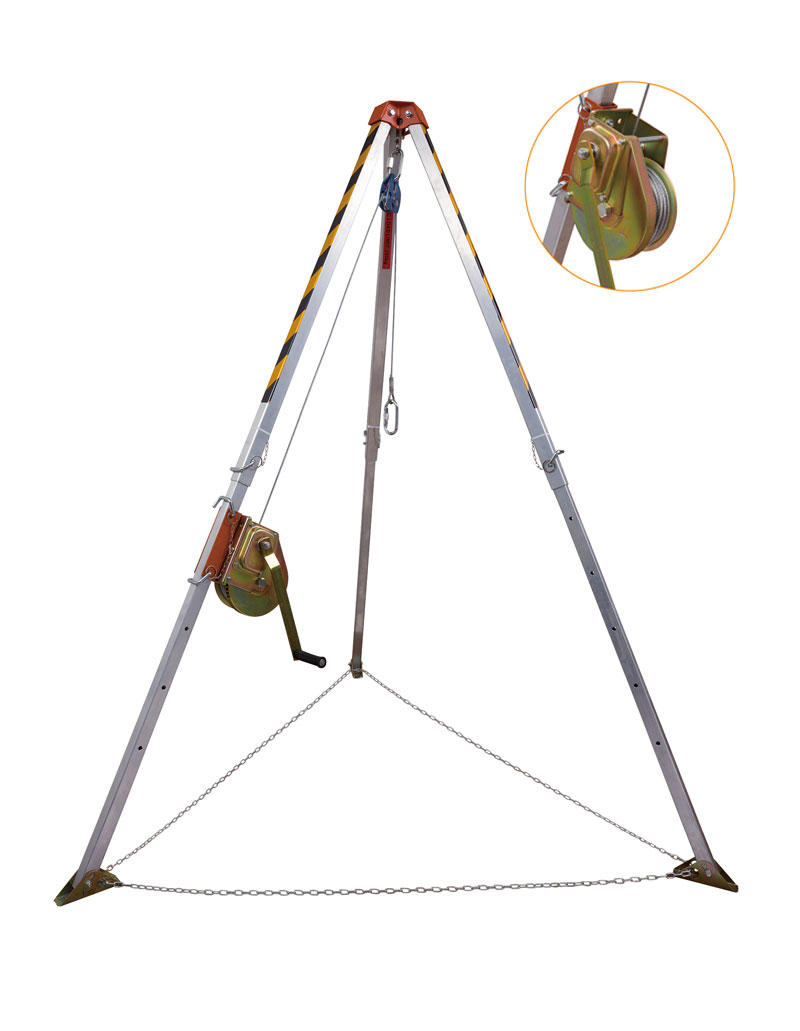 HT-902-It consists of main parts, sling, capstan, and protection chains