Abst:There are several different types of Fall Arrest Lanyards. Before you purchase one, you should know how to use it properly. There are three main types
There are several different types of Fall Arrest Lanyards.
Before you purchase one, you should know how to use it properly. There are three main types of Fall Arrest Lanyards. To choose the best one for your safety, make sure to check the length against the distance of fall and choose the right way to connect it to the anchor point. Shock absorber lanyards are those that work with a safety harness and have a woven webbing center that expands when you fall. This will reduce the force impact when you fall.
An adjustable lanyard works for situations where the distance to the edge is not constant. Adjusting the length manually involves human error, so you need to make sure that the lanyard is long enough. These lanyards may also come with an integrated shock absorber, which will help minimize the impact of falling onto a hard surface afterward. In the event of a fall, it's imperative that you use a Fall Arrest Lanyard with a backup fall arrest device.
The most important feature of a fall arrest lanyard is its shock absorber. While most of them are rated for three hundred and fifty pounds, specialty free fall lanyards are built with extra-long shock absorbers to reduce the impact force on the foot. These lanyards are generally longer and are made of nylon or kevlar webbing. They are made to stretch with the fall of the wearer and have a three and a half-foot length.
If you're not sure which Fall Arrest Lanyard is right for you, Hangzhou Hetai Security & Protection Co.ltd offers two options. The lanyard with a self-retracting lifeline is a good option. The other is an adjustable Fall Arrest Lanyard. The best part about both types of lanyards is that they're adjustable. If you're not sure which one to choose, be sure to check the instructions for both types of lanyards.
A fall protection lanyard is an essential piece of fall protection equipment for many jobs. The type of connecting device you choose will depend on the type of fall protection work environment. For example, you'll need to choose a Fall Protection Lanyard with retrieval capability if you're working at heights that are over six feet high. It's also a good idea to have several anchor points in different heights so that they cover more ground if needed.
While the BS EN 365:2004 standard requires regular component inspections, manufacturers recommend more frequent inspections to ensure that it's still in good working order. The Leach's guarantee guarantees the safety of fall arrest lanyards, so make sure you use a certified inspector. You'll need to demonstrate that the inspector has relevant experience and skills in order to assess fall arrest lanyards. Then, you'll be safe in the knowledge that you've made the right choice.
In addition to being safe, a Fall Arrest Lanyard should be effective at preventing serious injuries.
While you're working, don't forget to check your lanyard regularly. If it's worn out, you'll be restricted from reaching the edge of the roof or dangerous skylights. You should also check the lock mechanism to ensure it's secure. You never know what could happen if you're on a roof.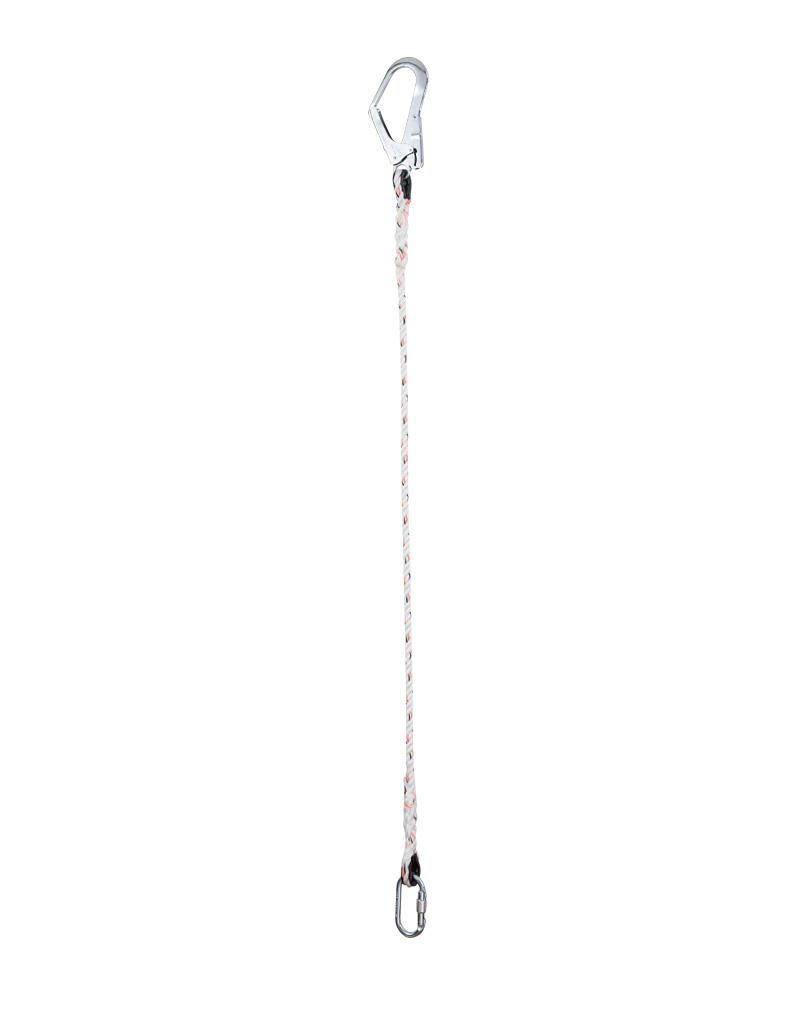 Restraint Lanyard Specifications
1.One hook safety lanyard
2.100% polyester
3.Hetai manufacturer production
4.CE,ISO9001:2008 certification
Product Code
Restraint Lanyard
Product Type
140 kg
Rope material
14mm Diameter 3 Strand Polyester Twisted Rope
Scaffold Hook Strength
25 kN
Carabiner Strength
25 kN
Available length
1.5m,1.8m,and 2.0m
Standards
EN354:2010
Individually inspect by QC