Abst: If you use a Safety Harness Belt, you are protecting your body and yourself against falls. These belts are a perfect addition to other fall protectio
If you use a Safety Harness Belt, you are protecting your body and yourself against falls.
These belts are a perfect addition to other fall protection components. You can find harnesses that accommodate different types of belts, including back support, restraint, tool carrying options, and work positioning. Safety Harness Belts can be used for specific situations, like working at heights or on unstable surfaces. For more information, visit the manufacturer's website.
The first method involves using a web of fabric in a first color. Next, a predetermined portion of the web is colored with a second color. This second color includes at least one thread that is predetermined to be a different color from the first color. This process is repeated for each year that the harness is used. This way, you can easily tell whether the belt is old or not and discard it. Another method uses a color coded Safety Harness Belt.
When buying a harness, always check the tag on it. The tag will list the manufacturer and what it is inspected for. This information will determine whether the safety harness will fit you properly and how it will respond to falls. It is important to use only the chest or dorsal D-ring to tie off to an anchor point, and not use the side D-rings. Safety huddle and toolbox talk are two of the best times to discuss the proper harness fit.
Putting a Safety Harness Belt on yourself is a great way to protect your body from falls.
It will keep you from sliding around while working and prevent you from getting injured. The leg straps should be the same length as your chest. You can adjust them if necessary. The leg straps should also be adjusted and fit snugly on your hips. It is best to read and follow the directions on the label. If your harness doesn't fit, it will not do much good.

Make sure you keep the Safety harness belt close to your body. It should not interfere with activities, so it should be worn close to the body. You should also place extra straps into the belt clip, as they may become loose. Safety harness belts must be inspected before use, and if it is not deemed fit for the purpose, it should be scrapped. However, if you have any questions, don't hesitate to contact the manufacturer.

A Safety Harness Belt is a vital piece of safety equipment for workers in height-required jobs. It should provide enough support to keep the worker in place during a fall, and it should also provide good comfort and mobility. The belt is made of durable materials for long-term use and good tensile strength. It will keep your hands free for other activities, allowing you to remain steady and safe in an elevated position.

Safety harnesses are an important part of fall prevention. They prevent you from falling while working. A safety harness can be attached to a stationary object, such as a ladder, so you can avoid hitting the ground. You can even attach a shock absorber to your safety harness to protect your body during an unexpected fall. The safety harness will make you fall-proof and protect you from injuries. And a safety harness is just one of the many reasons why you should wear one!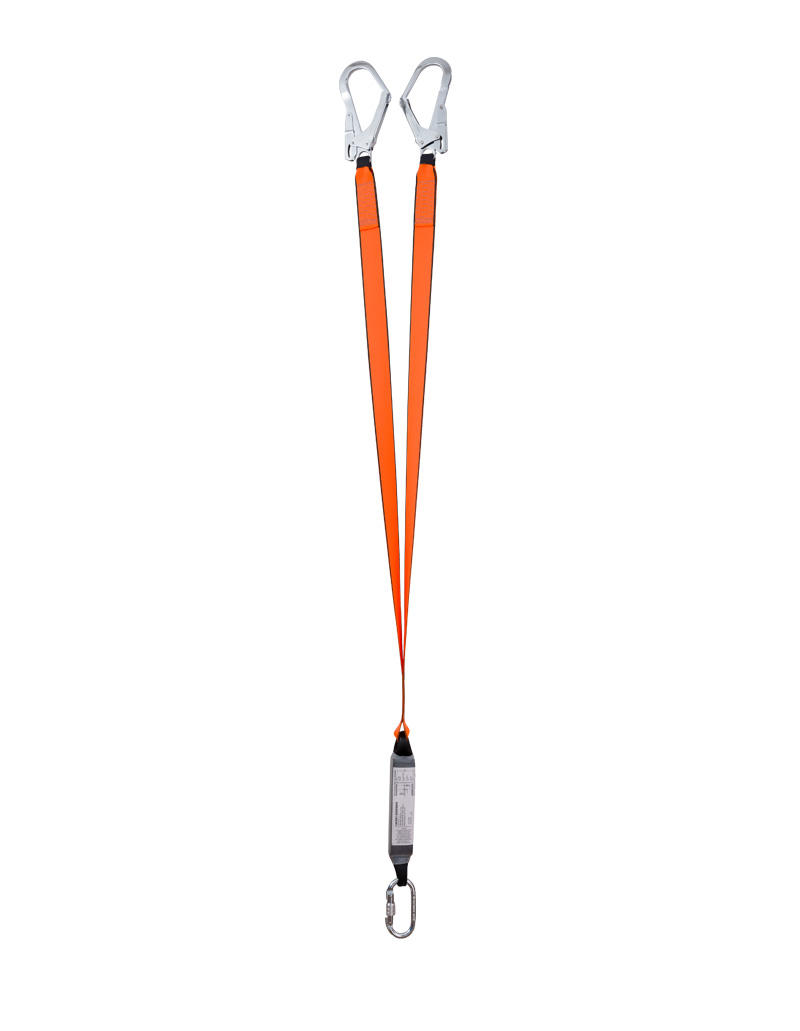 Webbing Energy Absorber Lanyard HT-512
INTENDED USE: Webbing Energy Absorber Lanyard HT-512 is a double lanyard with an integrated compact energy absorber designed for continuous protection when passing intermediate anchors.

ABSORBS ENERGY: The energy absorber webbing tears to limit the impact force on the user. Works with users who weigh between 50 and 140 kg.
DURABLE AND SAFE: The durable zippered fabric pouch protects the energy absorber from abrasion or contaminants and reduces the risk of cuts and potential severing over edges.
SAFE: The HT-512 comes with a captive steel carabiner with TRIACT-LOCK auto-locking system and two MGO large-opening connectors (certified to U.S. and European standards).
LENGTH: The maximum authorized lengths, with connectors, are 150 cm and 200 cm.