Abst:Full Body Harness With Double Lanyard A full body harness with double lanyard is a great piece of fall protection equipment. They offer increased fal
Full Body Harness With Double Lanyard
A full body harness with double lanyard is a great piece of fall protection equipment.
They offer increased fall protection due to their shock absorber and hook design. You can find a variety of types of lanyards and choose one that best meets your needs. They are typically ordered in packs of five. Each one can be used with a single or double standing step, or you can use them as stand-alone harnesses.
Single leg lanyards are designed to be worn around the same general area, as do single self-retracting lifelines. They are meant to stay attached to one anchor for a long period of time and offer safety fall protection. Single leg lanyards can be shortened or lengthened to fit the needs of various activities. Harnesses with two legs are generally the most common. A lanyard can be 6 feet long or longer depending on your requirements. It is important to note that the ANSI standard requires a label on the lanyard, and if it is not visible or not leg-visible, it may be removed from service.
Single leg lanyards are the most common type of fall protection harness. They are often used by residential roofers, since they don't want to spend time setting up guardrail systems. The lanyards are convenient and provide safe protection, and can be attached to a wide variety of fall-protection systems. Lanyards have two different types of hooks, including aluminum rebar hooks and snap-hooks.
A full body harness with double lanyards is important for fall protection in many different situations. Falls can cause significant trauma, including death. A full body harness can help to prevent falls by supporting all the body parts, including the head and legs. Hangzhou Hetai Security & Protection Co.ltd is the most popular entry-level harness with double lanyards. It is made of 6,300 lb. polyester webbing and is a cut above other entry-level products.
Single-leg lanyards have a lower profile and are not intended for use in vertical climbing. A harness with two 120 cm ropes and a tear-open energy absorber will protect you from falling. The lanyards will protect you from impact force by restricting you to fall hazards and reducing collision between you and the ground. If you're considering a double-leg harness, check the safety requirements before choosing a double-leg harness.
A full-body harness with a D-ring is also recommended.
The straps should be attached to the D-ring. Once attached, the straps should be tied in a loop. This way, the lanyard will not pull the user's body. The straps should also connect to each other so that they can stay in place. When selecting a harness with a lanyard, always remember to keep in mind that the harness can save your life.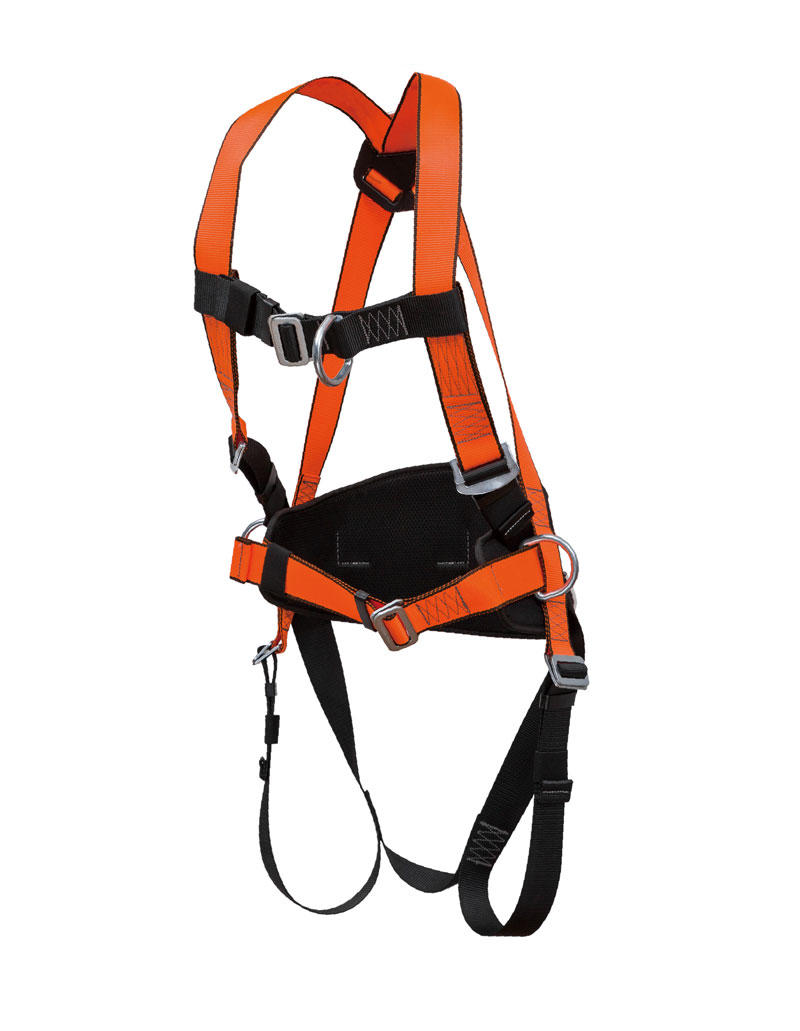 SUB-PELVIC STRAP: Distributes weight evenly for added support after a fall; shoulder strap friction buckle and leg & chest strap mating buckles ensure secure, comfortable fit
FALL INDICATOR/WARNING FLAG: Deploys after fall to indicate the safety harness should be removed from service; solid color leg straps for easy donning; rated to 400-lbs. (181.4 kg)