Abst:Benefits of Using a Retractable Fall Arrester There are many reasons to use a Retractable Fall Arrester. The length of the cord can be adjusted for a
Benefits of Using a Retractable Fall Arrester
There are many reasons to use a Retractable Fall Arrester.
The length of the cord can be adjusted for a variety of heights and uses, and the energy dissipater prevents the cord from becoming tangled. They are suitable for workers of any weight and can be used in horizontal and vertical settings. This article will discuss a few of the benefits of these products. The following article provides an overview of the different types of fall arresters and what you should look for in a retractable fall arrester.
Retractable fall arresters are similar to seat belts. They work by securing a worker to an anchorage point with a self-retracting lifeline. During a fall, a sudden jolt will activate the fall-arresting mechanism. Once the fall reaches 16 to 18 inches, the lifeline will follow the puller. Using the lifeline too fast can cause whiplash, so it is important to keep it locked in place.
Another benefit of using a retractable fall arrest system is greater freedom. This type of safety device can be used on steel I beams. Compared to a lanyard, a self-retracting lifeline allows the worker to reach the area at risk before stopping. This safety device is made to prevent a fall from swinging and is a great alternative to shock-absorbing lanyards. As long as it is installed properly, a Retractable Fall Arrester can save thousands of lives each year.
Retractable fall arresters are useful for a variety of applications, including construction. They are designed to provide a vertical lifeline and absorb the shock of a fall. The system contains a steel cable, carabiner, and block. A Retractable Fall Arrester must meet the standards of EN 1496 and EN 341 to ensure its safety and function. These standards also apply to the type of energy absorption the device uses.
A Retractable Fall Arrester is a complete fall arrest system consisting of straps, buckles, and attachment elements. A full body harness must include a sub-pelvic strap, shoulder straps, and a chest or thigh strap. In some cases, a fall arrest system can even be integrated into clothing. A fall arrest system is important for any workplace where fall risks are a major problem.
Retractable Fall Arresters are ideal for building owners who have permanently installed roof anchorage. They prevent workers from tying themselves up improperly and are more convenient to use. If your roof is flat with no fall through hazards, however, a Retractable Fall Arrester is not necessary. An inexpensive, reliable rope grab and lanyard can provide a safe, effective solution. They can also be adapted to suit different heights.
Retractable Fall Arresters offer a wide range of safety features.
Their high-impact polymer construction is highly durable. They are also compatible with a wide variety of other safety devices. KARAM's retractable wire rope blocks have a snout made of soft thermoplastic elastomer. They also offer the most convenient installation options. These safety devices are an excellent solution for many height-related jobs.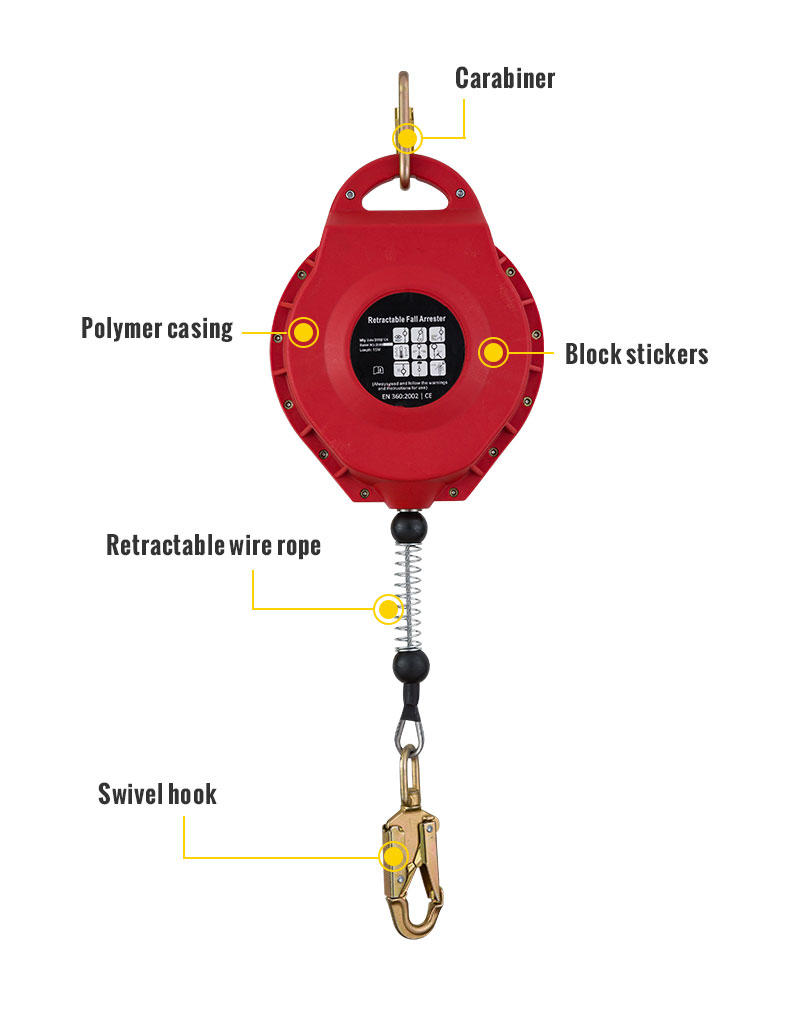 Meets both ANSI Class A and Class B requirements simultaneously 900lb maximum average arresting force
Meets ANSI Z359.14-2014, ANSI A10.32-12, OSHA 1926 Subpart M, OSHA 1910, 1926.502, and 1910.66
Lightweight and Durable Housing Comes with Swivel Top and Bottom Connection Points Designed to lower impact force at impact
RFID Chip Gripping Snout Side payout allows incredibly smooth cable payout and retraction Stackable design minimizes the space required for storage Worker Capacity Range: 130-420 lbs.
Connector Material: Galvanized steel or Polymer aluminum ● Lifeline Material: Galvanized steel ● For overhead use only
Product Code
Length
Weight
Polymer Casing
Galvanized Steel Eye
Steel Swivel Hook
Capality
Standards
HT-15
15meter
6.80kg
High Strength Polymer Casing
Provides Maximum Durability
√
√
140kg
EN360:2002
HT-20
20 meter
7.46kg
√
√
HT-25
25meter
8.12kg
√
√