Abst:Inspecting energy shock absorber lanyards is a critical part of ensuring the safety of workers who use fall protection equipment. Regular inspections
Inspecting
energy shock absorber lanyards
is a critical part of ensuring the safety of workers who use fall protection equipment. Regular inspections help identify any signs of wear, damage, or degradation that could compromise the lanyard's effectiveness. Here are some key inspection points to consider when checking energy shock absorber lanyards:
Overall Visual Inspection: Start by examining the entire length of the lanyard for any visible signs of damage, such as cuts, fraying, abrasions, or chemical exposure. Look for loose stitches or torn webbing.
Connectors: Inspect the connectors at both ends of the lanyard. Ensure that they are secure, undamaged, and free of deformities. Verify that the locking mechanisms (e.g., snap hooks, carabiners) operate smoothly and securely lock in place.
Shock Absorber Pack: If the lanyard has an integrated shock absorber pack, examine it closely. Ensure it is in good condition without visible tears, punctures, or deformation. Check that it is securely attached to the lanyard and that stitching or webbing is intact.
Labels and Markings: Check for labels and markings on the lanyard. Verify that they are legible and that they provide essential information such as the maximum weight capacity, manufacturing date, compliance with safety standards, and manufacturer details.
Energy Absorption Indicator: Some lanyards have indicators that show if the shock absorber has been deployed or subjected to a fall. If your lanyard has such an indicator, ensure it is in the proper condition. If it has been activated, the lanyard should be taken out of service and replaced.
Torn Stitching: Inspect all stitching on the lanyard, including any load-bearing stitches. Look for signs of loose or broken stitching, as this can weaken the lanyard's integrity.
Elasticity: Gently pull on the lanyard to test its elasticity. It should stretch and return to its original length without any lingering deformation or damage.
Hardware Attachment Points: Examine the hardware attachment points on the lanyard. Make sure they are securely sewn or attached to the lanyard and that there are no signs of separation or damage.
UV Damage: If the lanyard has been exposed to sunlight or ultraviolet (UV) radiation, check for signs of UV damage, which may include discoloration or stiffness in the webbing.
General Cleanliness: Ensure the lanyard is free from dirt, oil, or contaminants that could compromise its integrity or function.
User Instructions: Check that the lanyard includes user instructions or guidelines for proper use, care, and inspection. Make sure users are aware of these instructions.
Record Keeping: Maintain records of inspections, including dates, findings, and actions taken. This documentation is essential for tracking the condition of the lanyard over time.
If you find any issues during the inspection, it's crucial to remove the lanyard from service immediately and replace it with a new one. Do not attempt to repair a damaged lanyard, as it may compromise its safety. Regular inspections and proactive maintenance are key to ensuring the reliability and effectiveness of energy shock absorber lanyards in fall protection systems.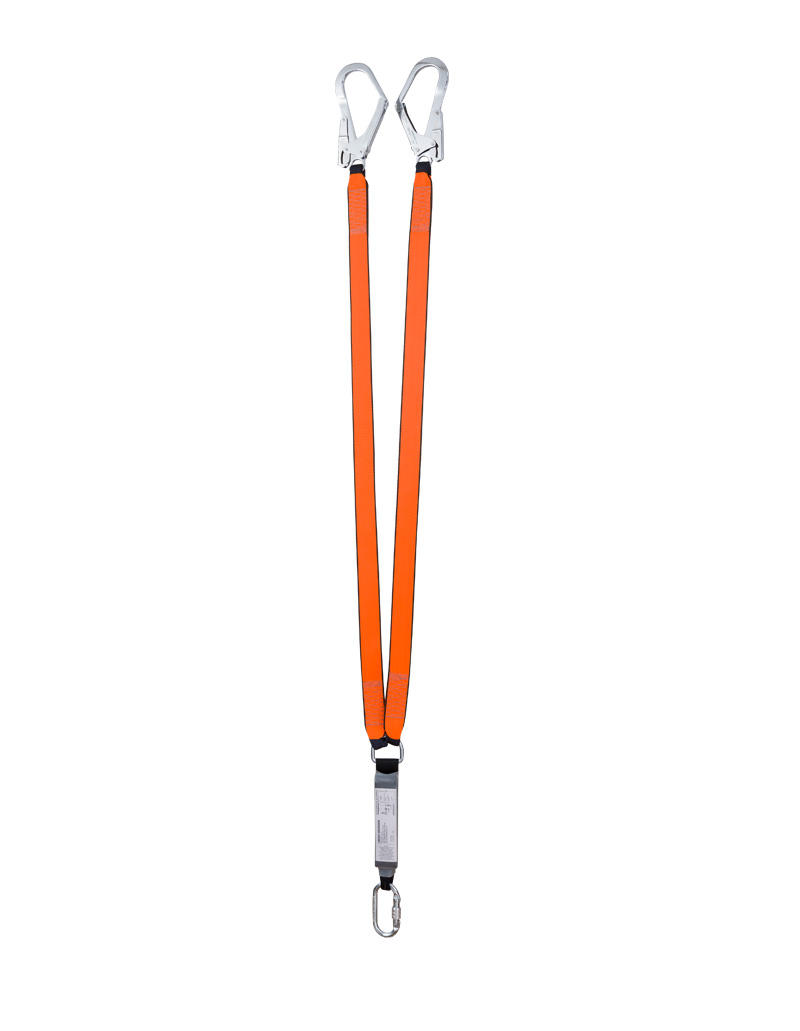 Energy webbing Forked lanyard HT-511