Abst:Safety Body Belts and OSHA RegulationsSafety Body Belts are an important part of preventing injuries at work. They help to protect the workers' back a
Safety Body Belts and OSHA Regulations
Safety Body Belts are an important part of preventing injuries at work.
They help to protect the workers' back and prevent injuries from falling objects. The SB-9316 is an easy-to-use belt with two D-rings and a buckle. This belt is ideal for employees who must work on ladders and high places.
OSHA has recently made changes to their regulations regarding fall protection. They now require workers to wear a Fall Protection System, which consists of restraining means such as a self-retracting lanyard, harness, and energy absorber. This system must be installed on all high lift vehicles that are used to lift personnel.
Workers can stay upright in a body harness for 20 to 30 minutes in the event of a fall. The harness fits over the torso, arms, and legs, and distributes the weight of the fall evenly across the wearer. This harness is attached to a D-ring between the shoulder blades and has a lanyard attached to it.
Until recently, the body belt was the primary fall protection method for workers. But times have changed and safety professionals have discovered that body belts can be dangerous when used incorrectly. When used incorrectly, they can cause serious injuries by placing extreme pressure on vital organs during a fall arrest. And, when used improperly, a body belt may be ineffective.
In addition to falling prevention, body belts can be used as positioning devices.
These devices can prevent employees from falling over ledges and other edge hazards. They also keep the employee within 2 feet of the vertical surface. Furthermore, a body belt must be able to limit the arresting force to 900 pounds or less. These devices are commonly used by oil and gas workers and construction workers.
OSHA has also imposed new regulations that require aerial lift operators to replace conventional body belts with OSHA-compliant ones. In addition, workers who use fall protection systems must undergo training to use the fall prevention systems. The training must be designed in a manner that is easy to understand by workers. The deadline for compliance with the new rule is May 17, 2017.
The new X-back comfort harness includes special cushioned mesh and ultra-flow padding.
The safety harness is also fitted with double-grommet waist belts and side D-rings for fall arrest. The safety harness is sewn into the external reflective vest and the leg straps zip into the back of the harness.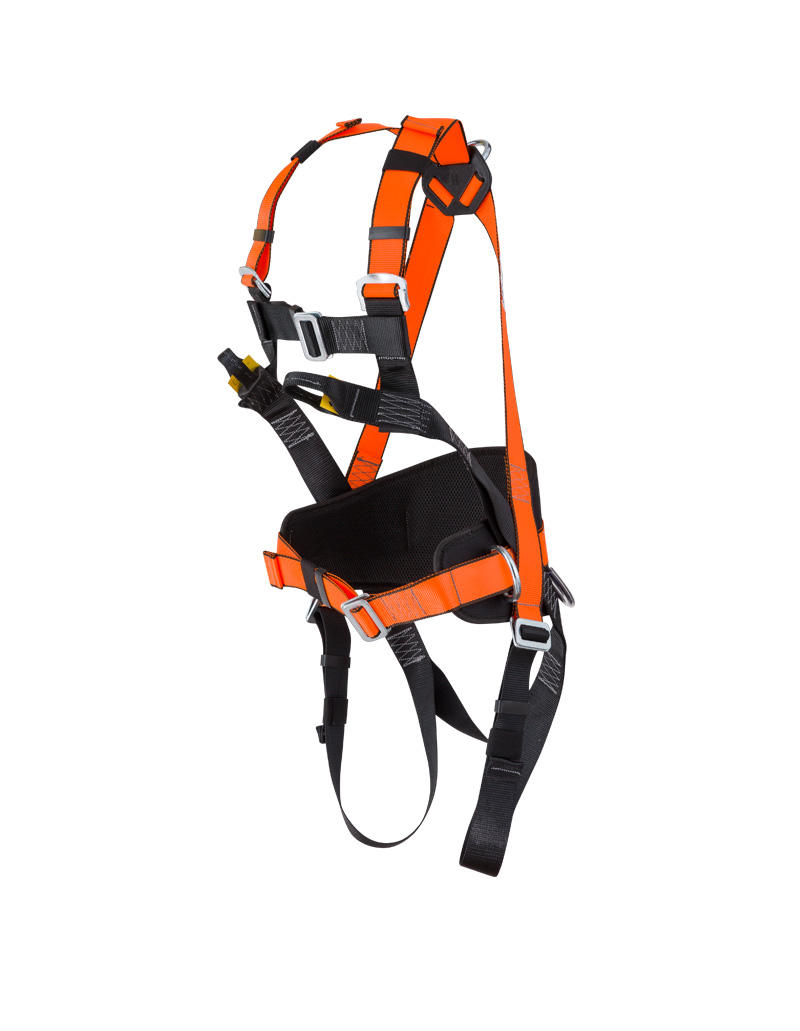 Full Body Harness In Climbing Industry HT-323
STRETCHABLE ELASTOMER WEBBING: Specially formulated to stretch for comfort and flexibility; conforms to the shape of your body so there is no bunching, binding or kinking; 6,000 lb. tensile strength
BACK D-RING EXTENSION: Tear away webbing ensures you remain upright after a fall; Forged steel sliding back D-ring for maximum strength and dependability; soft, flexible D-ring pad for comfort
PULL-FREE LANYARD RINGS Allow lanyard attachment when not in use to minimize hazard of lanyard hanging freely; universal size (L and XL)