Abst:The Industrial Safety Belt is a device worn around the waist that serves as a direct connection point between the worker and a lifeline, elevated stru
The Industrial Safety Belt is a device worn around the waist that serves as a direct connection point between the worker and a lifeline, elevated structure, or other object.
Its primary purpose is to protect workers from sudden descents and the hazards that are associated with it. These days, industrial safety belts are less commonly prescribed, in favor of body harnesses that provide more protection and prevent jolting of the worker during suspension.
There are many different types of industrial safety belts. Choose a safety belt that meets federal, state, or local regulations. Choose the highest quality product that fits your body type and budget. Lightweight industrial safety belts may be suitable for walking or travel. But be sure to check out the size and features before you buy. A full-body harness is ideal for workers who work at heights, while a lightweight version will be suitable for people who work in confined spaces.
The Industrial Safety Belt has many benefits.
It is effective in preventing falls, and it must be used in conjunction with a harness to provide more protection.
Fall positioning belts can also be combined with harnesses for additional free-fall protection. The two are used together to protect workers from serious injury during a fall. A fall positioning belt is the most effective type of industrial safety belt in situations where a worker must be suspended from a height of six or less.
A basic safety belt consists of a nylon lanyard with a hook.
Others include a shock-absorber and a take-up device. Safety belts are tested by attaching their hooks to a load cell, manufactured by Hangzhou Hetai Security & Protection Co.ltd. The load cell is connected to a ridged steel beam for impact load measurements. The LTR-A-500SA5 instrument measures the three-dimensional head acceleration at the center of gravity.
There are various types of safety harnesses, ranging from "B"-type to full body harnesses. Heavy-duty safety harnesses are more robust and require higher testing to ensure safety. Your worker's size and safety needs will determine which one is best for them. This article will explain a few basic features of each type of safety belt, and help you make an informed decision about which is best for your needs. You'll be glad you did!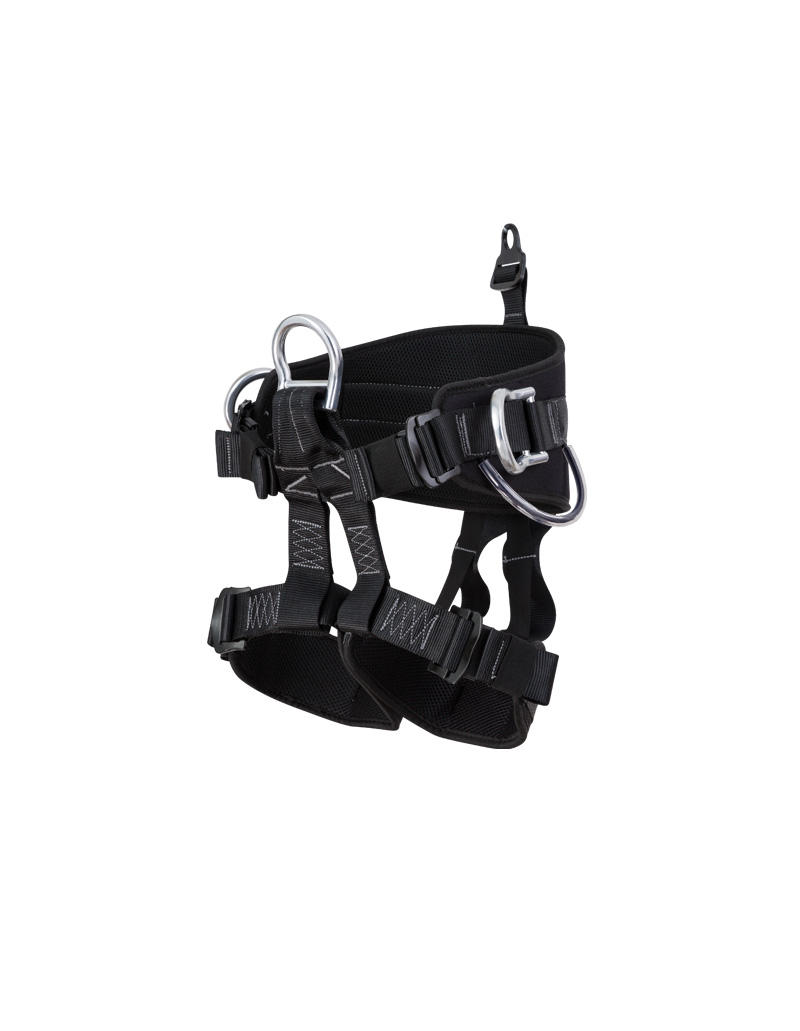 Rock Climbing Safety Belt HT-115
Ergonomic Design : Waist belt and leg loop are lined with breathable mesh to ensure comfort in warm temperatures. Ergonomic designed safety harness makes it move with your body well and distributes pressure and keep you comfortable while climbing. Cotton Padding and thicker frame construction guarantees excellent weight distribution for optimal comfort for long time wearing. Two Medal Adjustable Wait and Leg buckles allow waist belt and leg loop to be adjusted and secured in a single movement.
Wide Range of Uses: Perfecting for mountaineering, rappelling, tree climbing, indoor & outdoor climbing, rock climbing, outward band, fire rescue, arborist, working on the higher level etc. Comfortable cushioning to ensure safety during rock climbing.