Abst:The snap hook or carabiner used with a vertical anchorage line is a crucial component of a fall protection system. It serves as the connecting point b
The snap hook or carabiner used with a
vertical anchorage line
is a crucial component of a fall protection system. It serves as the connecting point between the lifeline and the user's full body harness or positioning equipment, ensuring a secure and reliable attachment. Here are the key characteristics of snap hooks and carabiners used with vertical anchorage lines:
Material: Snap hooks and carabiners are typically made of high-strength materials such as steel or aluminum. These materials provide the required strength and durability to withstand the forces associated with fall arrest.
Gate Mechanism:
Snap Hook: Snap hooks have a gate that can be opened and closed manually. They are designed with a locking mechanism, which may be automatic or manual. Automatic locking snap hooks are self-closing and self-locking, providing an added layer of security by reducing the risk of accidental gate opening. Manual locking snap hooks require the user to manually twist or push a sleeve to lock the gate.
Carabiner: Carabiners have a gate that can also be opened and closed manually. They come in various gate types, including screw-lock, twist-lock, and auto-lock. Screw-lock carabiners require users to twist the gate to open or close it. Twist-lock carabiners feature a spring-loaded gate that can be twisted to lock or unlock. Auto-lock carabiners have a gate that automatically locks when released, enhancing convenience and safety.
Size and Shape:
Snap hooks and carabiners come in various sizes and shapes, with different gate openings and load-bearing capacities. The size and shape should be appropriate for the specific application and compatible with the attachment points on the user's harness and the anchor point.
Oval and D-shaped carabiners are common choices, each with its advantages. Oval carabiners have a symmetrical shape that makes them versatile for various uses, while D-shaped carabiners have a larger gate opening and provide a better orientation for attaching equipment.
Gate Opening Size: The gate opening size is an essential consideration, as it determines the ease of attachment to anchor points and harness D-rings. A larger gate opening can simplify connections.
Strength Rating: Snap hooks and carabiners are marked with their strength ratings, which indicate their load-bearing capacity. It's crucial to select a snap hook or carabiner with a rating that meets or exceeds the expected forces that may be applied during a fall.
Visual Inspection: Regular visual inspections are necessary to check for signs of wear, damage, or deformation. Damaged or worn snap hooks and carabiners should be taken out of service and replaced promptly.
Gate Clearance: Ensure that the snap hook or carabiner has adequate gate clearance when attached to the anchor point or D-ring, allowing for proper engagement and security.
Compatibility: Snap hooks and carabiners should be compatible with the specific type of vertical anchorage line and fall protection equipment being used. They should fit easily and securely without interference.
User Training: Workers must receive proper training on how to use snap hooks and carabiners correctly, including how to open and close them, verify their locking status, and inspect them for safety.
Compliance with Standards: Snap hooks and carabiners should comply with relevant safety standards and regulations, such as those established by organizations like the Occupational Safety and Health Administration (OSHA) in the United States or the European Union's CE marking requirements.
Snap hooks and carabiners are critical components of a fall protection system, and their proper selection, use, and maintenance are essential for ensuring the safety of workers at height. Workers should be knowledgeable about the characteristics of these connectors and how to use them safely in conjunction with vertical anchorage lines and other fall protection equipment.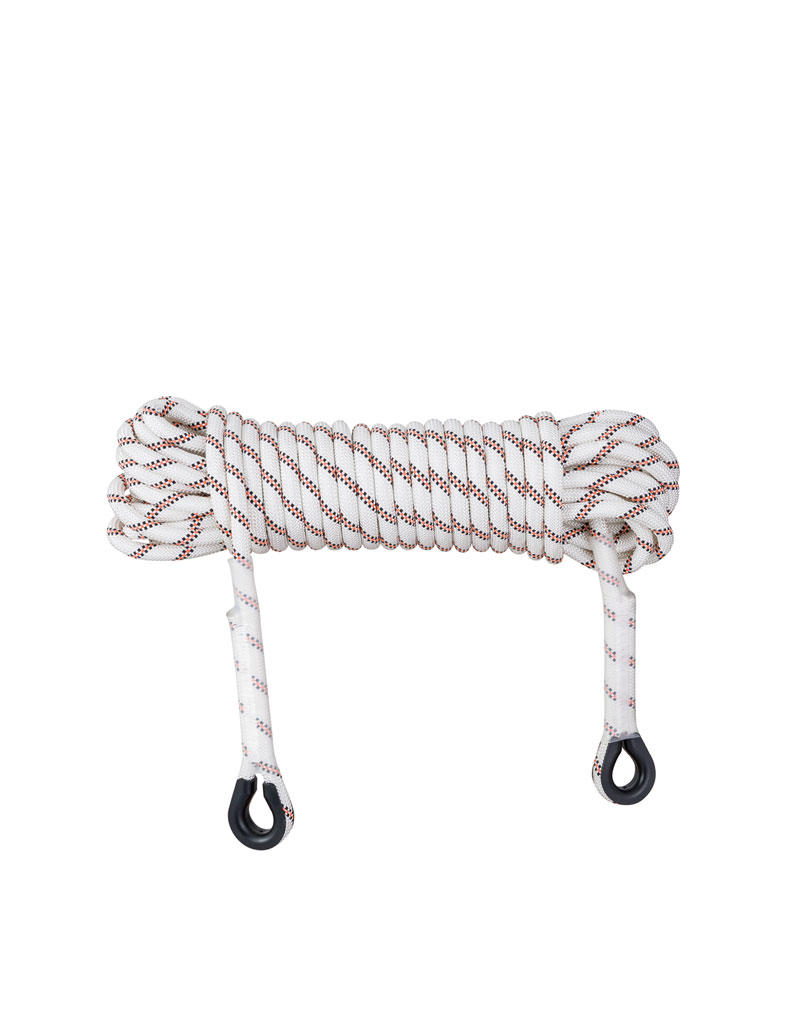 Polyester Kernmantle Rope HT-620