Abst:The Benefits of Using a Full Body Harness There are many benefits to using a Full Body Harness to protect yourself from falls. Many safety companies
The Benefits of Using a Full Body Harness
There are many benefits to using a Full Body Harness to protect yourself from falls.
Many safety companies manufacture harnesses that can support up to 310 pounds, but this capacity should not be exceeded. Do not exceed this limit, as this can pose serious safety issues during a free fall arrest. Alternatively, a worker wearing a harness with too low or too high a capacity can suffer significant injury, or even die. Because of this, the capacity of your harness is important to consider when choosing a full-body harness for your work.
A high-quality harness should be comfortable and adjustable. A padded harness with 5 points of adjustment and a standup D-ring should be comfortable for the operator. One safety harness should also meet major global compliance standards. Its leg straps should also be adjustable and padded. A harness that is comfortable for the monkey operator can also prevent injuries. It should also include connections for an optional derrick belt. Lastly, a good harness should be adjustable and meet all the requirements of your job site.
A Full Body Harness is a fall arrest device that distributes the fall force over a large area of the body. It ensures the subject is suspended upright even after a fall, minimizing the possibility of internal injuries that can occur during a fall. Historically, fall protection was accomplished with the use of body belts, but this practice has been deemed ineffective by OSHA. The safety harness should have at least 5,000 lb. (22kN) breaking strength at the attachment points.
An appropriate full-body harness must be adjustable to prevent injury when a person falls. A personal fall protection harness must not allow the user to fall more than 6 feet or 2 feet without being released from the harness. In addition, a positioning harness should not allow the user to fall more than 2 feet without the help of a rescue system. To properly adjust a full-body harness, the user should unfasten the straps and shake them out. Then, he or she should slip the harness over his or her shoulders. Next, they should slip in the D-ring in the back. The leg straps should be attached to the D-ring, one at a time. Leg connections should be snug so that the user feels a seat in the rear when pulling up the legs.
Before using a Full Body Harness, a worker should thoroughly inspect it to ensure it meets OSHA safety requirements. An employee should inspect the harness once a year. If it is worn improperly, the harness may cause injuries to the worker. Lastly, the full-body harness should be properly stored in an indoor, controlled environment. For maximum safety and effectiveness, a harness should be properly tested for resistance to fading, rust, and wear and tear.
A full-body harness should be adjusted to fit the user's height.
Otherwise, the webbing may not fit properly and the personal fall limiter may come off. The webbing should also be adjustable, otherwise, it will loosen and cause bodily harm. A full-body harness should be adjusted to fit the user's height and weight. The manufacturer should provide sizing charts for the harnesses, but a worker should always try on several before starting a project.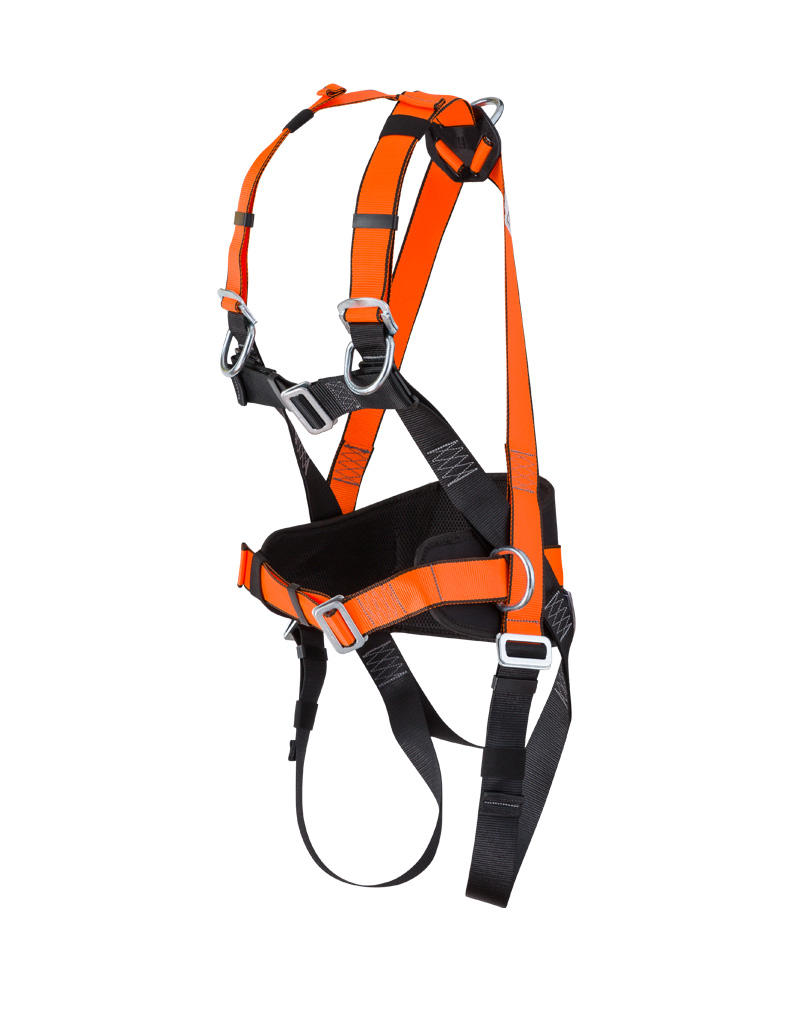 Construction full body safety harness HT-320
Shoulder, leg and waist pad assemblies for extreme comfort
Twin torso keepers for stowing idle lanyard connectors
9 adjustment positions on belt and legs for superior fit
Durable ballistic nylon pad exteriors