Abst:If you've ever been caught by surprise while working, you've likely been wearing a Safety Harness Belt. These belts are designed to absorb forces and
If you've ever been caught by surprise while working, you've likely been wearing a Safety Harness Belt.
These belts are designed to absorb forces and support the worker's weight while arresting a fall. In addition to being effective in preventing injury, these belts can be checked frequently for proper functioning. Read on to learn more about this important safety tool. Besides saving your life, harnesses help to reduce risk in the workplace and are a great way to ensure employee safety.
Body belts are designed to arrest a fall
A body belt is one of the first personal fall protection systems. It was adapted from rock climbers and soon became the standard fall protection system in workplaces. These devices were usually loosely wrapped around the employees' waists. Safety lanyards were added in the 1970s to improve the security of body belts. Users complained about the inefficiency of tying the belts. But today's body belts are designed to arrest a fall.
They absorb forces
A safety harness is designed to distribute force and keep an employee upright during a fall. This is important because the vertical spine will best absorb compressive forces. Additionally, keeping the employee upright is essential for rescue workers in case of an accident. However, if the worker is not properly restrained, the pressure on the worker's lower body will cause blood to pool in the legs and even cardiac arrest. Because of this, safety harness belts should be worn when confined space entry or if the employee is in a rescue situation.
They support the worker's weight
Safety harness belts support a worker's weight and provide fall protection. They attach to the worker's belt and buckles at key body points to support their weight and protect sensitive areas. A fall can cause serious trauma and death, so it's important to wear one correctly and follow instructions on how to use it. The following are some tips to choose the right safety harness belt for your situation. If you're considering using a safety harness for your job, make sure you check out these tips to choose a suitable one.
They can be inspected frequently
Using a visual inspection and competent person review, safety harnesses should be inspected regularly. If you notice any of these conditions, it is time to replace the harness. For example, if the vertical lifeline is loose, the belt should be replaced. If it is loose and clinging to the user, it should be repaired or replaced. The inspector should check the buckles, straps, and D-rings for fraying, burn marks, and cuts.
They are durable
A good safety harness belt should be comfortable to wear, absorbing sweat and keeping you properly positioned. The right harness can help you climb a tree, tower, or rebar, so it is essential to wear the right safety belt for such activities. The webbing of a safety harness is made from a durable material that resists oil and mold. They are also durable, so they last a long time. Whether you need a safety belt for climbing or any other activity that involves being in close contact with moving parts, these harnesses can help keep you in control and free.
They are easy to use
Safety harness belts are an essential part of your car's safety system. They are designed to hold you securely in your seat, but are also easy to adjust to fit different body sizes. These belts are commonly made of soft-weave PolyTeck webbing. Some harnesses are adjustable up to 55 inches. A safety harness belt should always be worn at all times, even if you aren't driving.
They are often deadly
Many people believe safety harness belts are not necessary. But that could not be further from the truth. While these belts are intended to protect workers against falling objects, they can also cause injury by restricting blood flow in the body. To make things worse, they are not always worn properly, so they can become a fatal flaw in a crash. Luckily, there are ways to avoid these problems and make your belts more effective.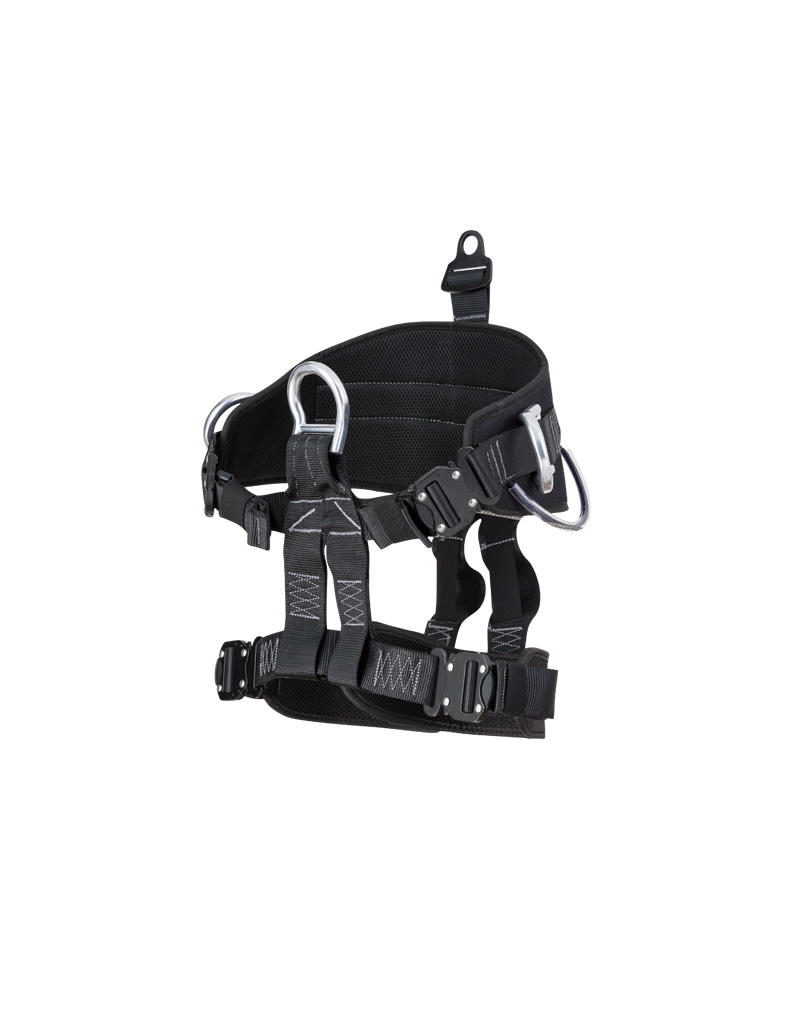 Half Body Climbing Harness HT-116
SAFETY FIRST - CE 1282, Half body climbing harness you can trust. Harness Weight limited:230KG/ 507 lbs,Breaking strength-22KN. Tension:15KN, Impact force: 6KN.
One Size Fit All:Thicken climbing harness fits well on all size, waist 20"to 48"(51cm-122cm);Leg 16" to 31.5"(40cm-80cm). Well on all ages and can be shared by the whole family. Easy to operate, wear and remove.
Comfortable Thoughtful Design:0.983lb(446g),Waist belt and leg loop are lineed with breathable mes